Past Episodes
Episode 4
Celebrity Sex Tape Director

We reveal that so called celebrity sex tapes are actually slick productions and big business. We meet the Aussie director who has worked with some big names.
Andre Jameson's Dream Projects
These are the films André would love to make. He just needs the celebrities to agree.
"Cruisin' Holme" Starring Tom Cruise and Katie Holmes
"Howard's Ya Going?" Starring John Howard
"Snake In Her Plane" Starring Samuel L. Jackson
"One Hot Dog" Starring Simon 'Hotdogs' Deering
"Horny Valance" Starring Holly Valance
"Passion of the Christ" Starring Mel Gibson and Jesus
"The Experimental Boy From Oz" Starring Hugh Jackman and Peter Allen
"Johnny Deep" Starring Johnny Depp
"Having Sex On Ice" Starring Torvill & Dean
Man Dog

We were there to witness the troubled transition of a dog who has become a man via a new surgical technique. A deeply moving story of love.
Other Transpeciel Patients

This is Casey. Formerly a hamster, Casey has experienced some unexpected blindness. Sometimes he can see, sometimes he can't. He regrets the surgery.

Bruce was transformed into a man against his will. He has said that he was a lot happier when he was a giraffe. Now he can't reach the food he likes. He is considering an operation to go back to giraffe. This has never been done.

Maxwell has experienced sever memory loss since the surgery and can't remember anything pre-operation. He refuses to believe he used to be a seal. But he was.

Nicky is thrilled with the results of his operation.He was miserable as a budgerigar, stuck in a cage all day.

This ex hippopotamus Gary is over the moon about the results. He's especially happy about having opposable thumbs.

Larry hasn't spoken since the surgery. Like Russel/Rusty he became a man to be with a woman, but was dumped the day after he became a man.
World Board Games Championships

The highs and lows of the World Board Games Championships as a Commonwealth Games official looks for a new event.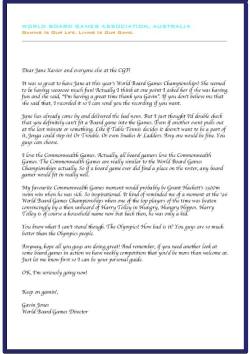 We have a copy of Gavin Jones's final plea letter to the Commonwealth Games Federation (right). See the letter here.
Window Washer Scam

The guys who wash windows at traffic lights make a lot more money than you think. Our surprising investigation into this shadowy world of tax–free grey areas.
Network TEN
Network TEN - Sunday Nights After Rove on Network Ten.